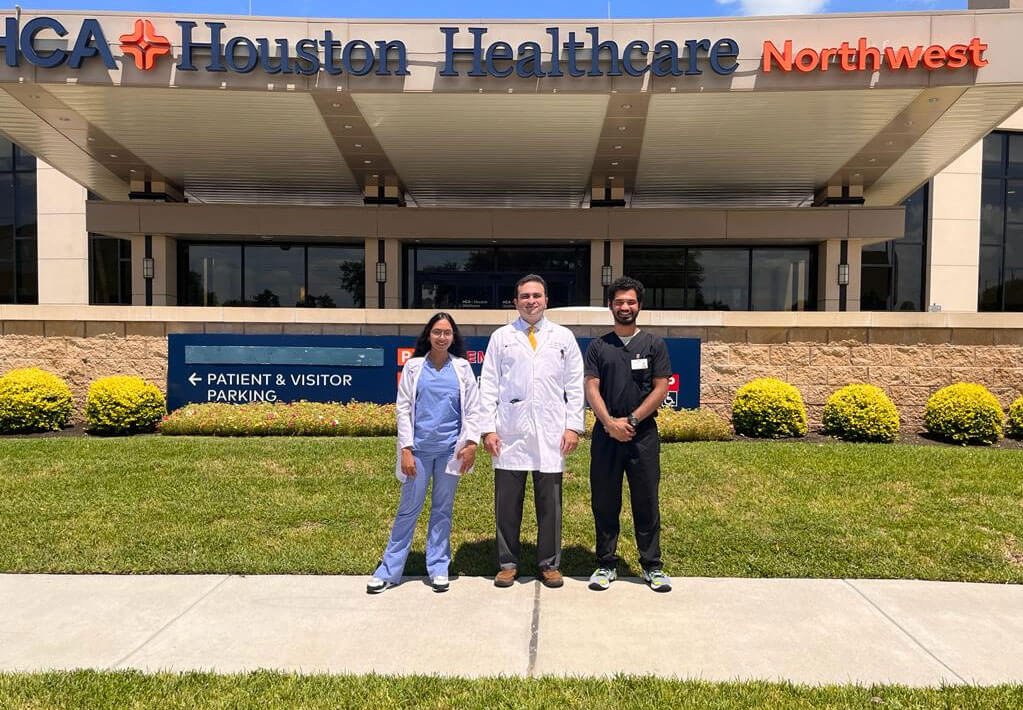 Medical Observer Testimonial
By Dr. Fatima Jamshaid
I thoroughly enjoyed my rotation under the supervision of Dr. Usman Khan. In July 2022, I was able to obtain outpatient and inpatient exposure. The day usually consisted of attending rounds and consults at Houston HCA. In addition, I got to observe various cardiovascular procedures in the clinic and the hospital, such as cath lab procedures and venous ablation. I also actively contributed as a member of the Epic Heart and Vascular Center team by taking patient histories and performing physical examinations in the clinic. I would then document the relevant details in the EMR system and discuss the patient cases with Dr. Khan, who always took it as an opportunity to teach and offer feedback. This practice significantly aided in the improvement of my clinical skills.
Moreover, I got along with the team very well, who was more than welcoming. Tran, the sonologist at the clinic, was kind enough to educate me regarding the techniques for performing Echo and venous Doppler U/S. The rotation allowed me to showcase my teamwork, clinical and interpersonal skills truly. The opportunity to immerse in extensive patient care and collaborate with the team to provide the best management was definitely a highlight.
What stood out to me in this rotation was the incorporation of scholarly activities into the daily routine. We would have weekly student presentations on the latest guidelines and journal clubs to discuss novel research. During my rotation, I presented the 2020 ACC/AHA Guideline for the Management of Patients with Valvular Heart Disease. It felt like a short-internship crash course and was one of my favorite rotations during my time in the United States. I truly appreciated Dr. Khan's interest in teaching and dedication to making this a memorable rotation for all students. The encouragement and constructive criticism I received during my experience at Epic Heart and Vascular Center will be something I will definitely carry into my professional career as a valuable asset. Although my time was short, I would 10/10 recommend this rotation to all visiting medical students and graduates.
Medical Observer Testimonial
By Dr Ahmed Ali
I did one month rotation at epic heart and vascular center in July. I found this rotation to be extremely beneficial for both learning and also for my personal growth. It was inspiring to see the professionalism of all the staff members yet at the same time everyone was very friendly and you get along with them very easily. Dr. Khan is an outstanding clinician and a very good mentor, he always gives you positive and constructive feedback which help you understand and work on your shortcomings. During rotation you are exposed to diverse patient population, and toward end of rotation you are comfortable at taking good history, doing relevant examination and coming up with a plan for common cardiovascular diseases. I also got opportunity to observe many procedures like Arterial and venous Ultrasounds, Stress Testing, Echocardiogram and common vein procedures like Varithena and Venaseals, Dr. Khan and ultrasound tech are very willing to teach and answer any questions you have.
I also got to present on 2021 ACC/AHA/SCAI Guideline for Coronary Artery Revascularization: Executive Summary: A Report of the American College of Cardiology/ American Heart Association Joint Committee on Clinical Practice Guidelines. We had a good discussion about the topic after the presentation. I also got chance to attend the topic presentation by Dr. Khan on Anticoagulants and Anti platelet in front of medicine department of HCA Hospital King wood, it was very through and informative presentation.
To conclude my experience, I will say that this rotation teaches you a lot about how USA medical system works and you learn a lot from Dr. Khan about professionalism, how to interact with staff members and patients and about time efficiency and management. This rotation not only helps to improve your knowledge of cardiovascular diseases and management but also encourages you to build confidence and qualities to a become better professional in the future.
Medical Observer Testimonial
By Dr Salman Sabri
I rotated with Dr.Khan for a month in HCA North West Houston and epic vascular heart and vascular center. I extremely recommend the extensive and high quality US clinical experience that I gained from this rotation. Dr. Khan makes sure from the first day that the observer or extern starts working on EMR and get involved in patient management which is the essence of US clinical experience. I was able to observe heart catheterization at HCA hospital. There is plenty of opportunity to observe and learn stress testing, Echocardiography, carotid doppler, arterial and venous duplex scans. I observed different techniques for treatment for chronic venous insufficiency like radiofrequency thermal ablation, venoseal and sclerosing therapy. I had the opportunity to present presentations on 2022 AHA/ACC/HFSA Guideline for the Management of Heart Failure: A Report of the American College of Cardiology/American Heart Association Joint Committee on Clinical Practice Guidelines and SGLT-2 trial( DAPA-trial and emperor trial). I also did a case report under the kind supervision of Dr. Khan.
Everyone at the clinic works together as a team and has great respect for each other. Dr. Khan, nurse practitioners and the MAs constantly gave me feedback how to improve and I noticed a huge improvement by following their advice. The amount of experience and work was comparable to the responsibilities of an intern in a residency program. A typical day was seeing patients back to back and then working on EMR which made me aware of my shortcomings and helped me improve them. Dr. Khan is not only an exceptional physician and cardiologist but a great mentor as well that is unmatchable. I'm happy that I was able to work with him and was able to grow professionally under his supervision. You get to see around 30 patients every day that puts you in a residency comparable environment and help to learn and handle the workload in a time efficient manner. It is located at a very nice location with an affordable suite within a mile from the clinic and hospital. I feel very confident and honoured after rotating with Dr. Khan. I would definitely recommend this rotation to any medical student who is looking to gain clinical experience in the US.